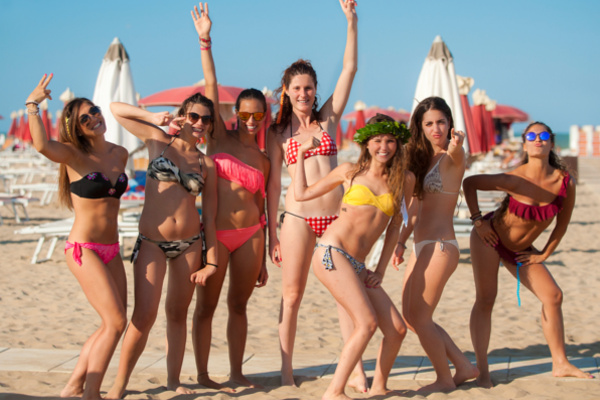 "If there is a Paradise, I'm sure it has a beach"
Our partner is beach 56, a single large holiday beach,where you can still find your trusted lifeguard , at the same time you having the liberty to choose the umbrella that you like best
DO YOU WANT AN IDEA OF WHAT YOU CAN FIND ON THE BEACH?



ALL THE SPORT YOU NEED IN THE WATER AND ON THE WONDERFUL GOLDEN SAND!
​If you are bored and alone and you do not want to rest, the beaches offer a wide array of sporting events or recreations in the company of wonderful staff of animators. Every morning there's a conduct of muscle toning , water aerobics , beach volleyball , beach tennis , table tennis , zumba and group dances for the more active, bocce tournaments , billiards, trump and burraco competitions to play and have fun together!
THERE IS NO LACK OF WELLNESS AREAS TO LIVE THE BEACH IN HARMONY!
Beach living in Rimini way means many things: joy, fun, comfort, but also well-being and rest to the highest level. Here you can find wellness courses , whirlpools , sunbeds and armchairs for relaxing moments by the sea, in quiet and discreet outdoor areas belonging to the Beach Wellness circuit promotes annual events and appointments dedicated to self-care and to the sea as a natural place to live healthily and harmoniously
AND THEN THERE IS A SEA OF SERVICES FOR CHILDREN!​
And then again, all day long, from morning to evening, there is a rich calendar of events with Miniclub and animation for children!
Rimini beach is famous for welcoming many children every year: the sea ​​with a low seabed , the fine sand, the cheerful atmosphere and endless services make it a destination always loved by families. In our areas, you will find everything you need to enjoy the sea with your children and rest; lots of fun and attention, many activities and many services for their comfort and well-being. In each area, you will always find a playground with swings , slides , playhouses , castles ,activity parks, swings and rides.
​During the day, there are mini clubs and animation activities, beach tournaments, physical activities and workshops , snacks and moments of fun with baby dance and other group games
ONLY HERE YOU CAN FIND THE FANTASTIC BOABAY !!!!
​Now you can dive into the fun! Boabay is the first and only floating water park lying in the Rimini sea, 100 meters from the shore.
Slides, ramps, platforms, trampolines, inflatables, a 4-meter iceberg and other attractions to test yourself and have fun with your friends.
Boabay also has an area entirely dedicated to the little ones who can play with their parents
DULCIS IN FUNDO ... EVEN IN THE EVENING THE BEACHES ARE ON HOLIDAYS!
​Spend how you want your day by the sea, but do not forget that on our sand is a feast in the evening, because every week there is a special event dedicated to children, a party and dancing for everyone and a nice evening with music and craft markets